Good Logistics Solutions
Logi-Go, the software for logistics and transport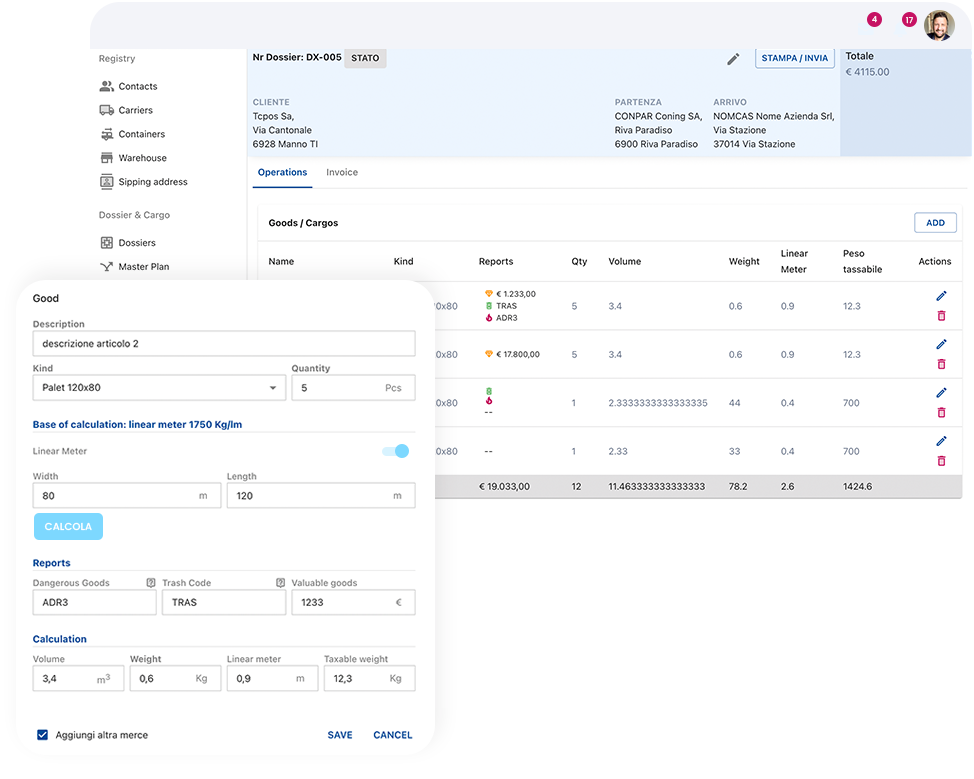 To cope with the complexity of the logistics and transport world, there now exits Logi-Go
management software, designed by our software house GoodCode.
The software comes to the aid of small, medium and large transporters, who are involved in national or international intermodal logistics, by offering a management software that integrates all the tools for transport planning in a single environment.
The software for intermodal logistics
Logi-Go ensures correct and detailed planning of all goods transport activities. It offers an intuitive interface, user-friendly drag-and-drop modules, a multitude of functions that can be activated at will, as well as a highly customisable design.
Manage orders, suppliers and customers
Optimise routing and mileage
Plan container loading
Check with real-time tracking
Digitise accounting and payments
Exploit conversation channels
Save your archive in catalogues and dossiers
Get the most out of a single, integrated view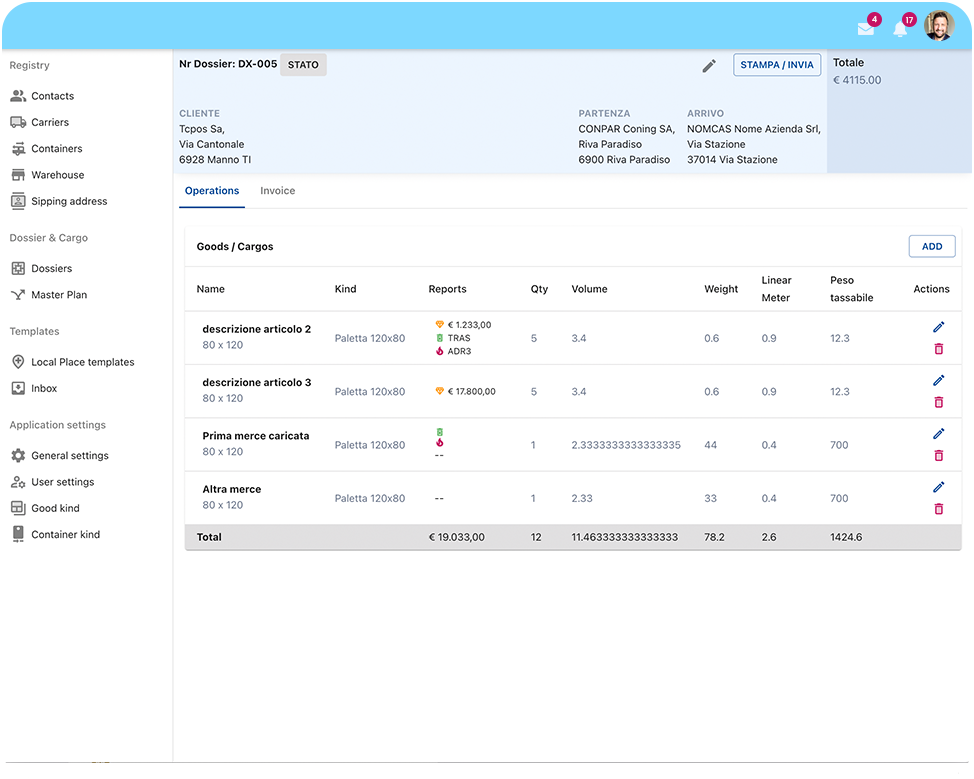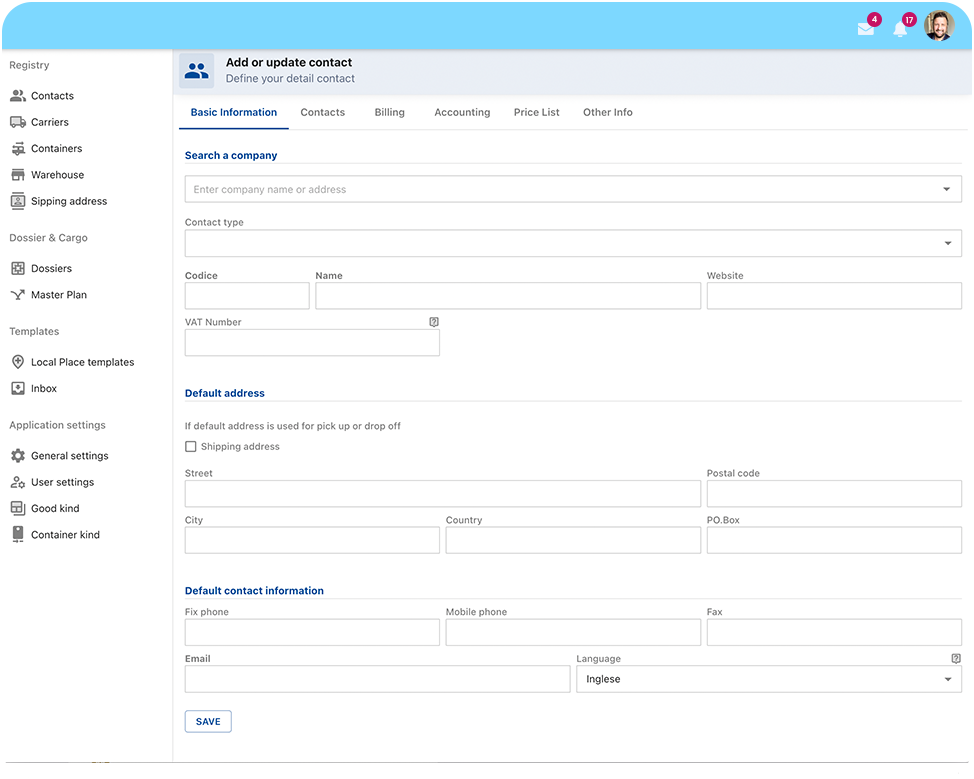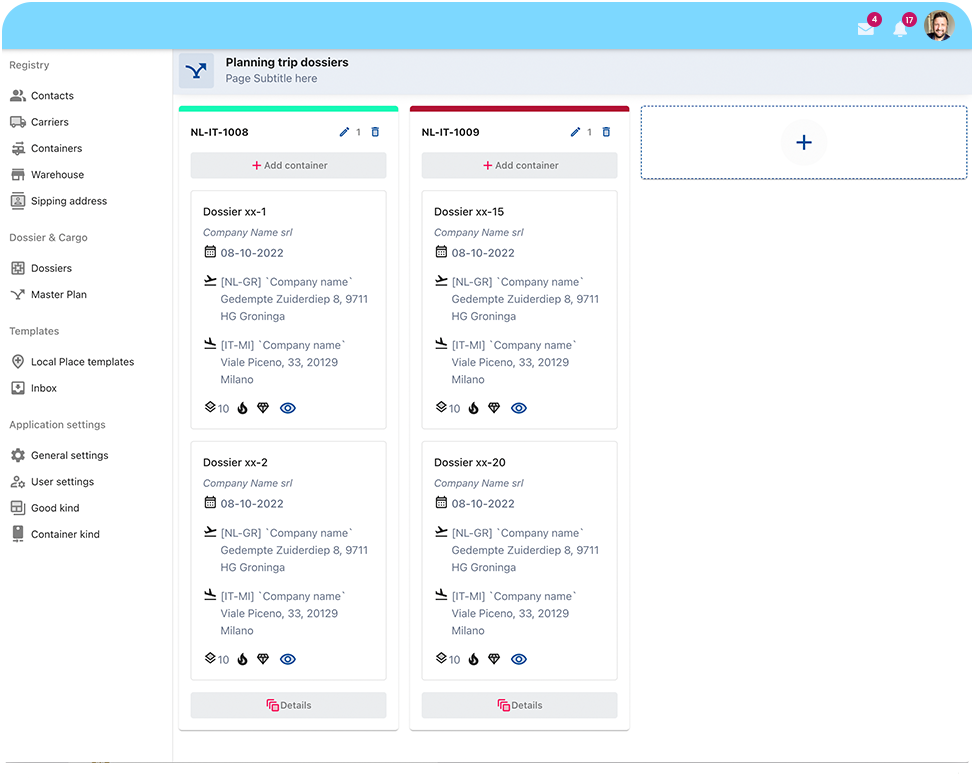 Reservations
Manage customer orders and create customised offers.
Costs and revenues
Allocation of Shipping Costs and Proceeds
The software keeps track of all the variables and criticalities that influence the creation of a shipping offer: waiting times, connections, mileage, fuel costs, etc.
Order Management
Order management, vehicle confirmation and itinerary

You can easily check the availability of the different means of transport, consult timetables and connections and book according to the quantity of your goods. You will also be able to optimise your trip according to the most suitable route and the lowest mileage.
You will always be able to keep track of the order status of your customers.
Through tracking you can keep track of orders in real time and update customers or suppliers on the status of delivery.
Supplier management and communications
Thanks to our management software, the 'dialogue' with your transporters and suppliers is facilitated: you can create mailboxes for suppliers and sub-suppliers as well as WhatsApp in-app for immediate and fluid conversations. In addition, you can also exchange documents and have a direct channel of conversation without having to go through administrative and logistics offices.
Master data and documents
Through the Logi-Go management software you can manage receipts, loading and unloading inventories, permits, customs declarations, invoices, specifically:
create documents in the desired language
set currencies
save documents on a drive
send documents by email to transporters
Unforeseen events
You can alert your transporters or suppliers in real time, reporting any problems on the route or delays.
Data history
The data of the various routes, orders and individual bookings are archived and divided into dossiers, which are always accessible.
Real time
All the tools for optimal planning in one place, in real time.
Customisation
The interface and documents will reflect your brand and corporate image.
Digitisation
All documentation created digitally and accessible at all times.
Integration
The system integrates seamlessly with many tools, such as: google maps, upac, teleroute, merci italia, bexio etc.
Request a consultation
Tell us about your project
Our solutions are customisable and adaptable to your needs.
Together we will find the solution tailored to your requirements.